It seems food has always plagued mankind and never so much as it plagues me now. I'm used to cooking for everyone....cooking for meals, making bread, canning, and bulk cooking for the week. Last Monday was no exception so I decided to make scalloped potatoes for dinner along with steaks. I received a mandoline slicer for Christmas last year and have only used it a handful of times. It's perfect for slicing potatoes, cucumbers, and making julienne strips for stir fries. I was into a groove with the slicing when all of a sudden I felt my fourth finger on my right hand throb. I sliced it clear across the middle only to be stopped by my nail. It was horrendously painful and the blood, oh the blood. I yelled at Paul to bring me a steri strip to pull it back together. I was in no way going to go to Urgent Care for stitches. We finally got the bleeding to stop and while I waited for another bandage to cover the whole thing up, my eyes glanced down to see the damage. I suddenly felt woozy and spun around to toss my chips in the sink. I didn't, but my knees buckled, my hearing started to fade, and I was blacking out. Paul caught me, set me in a chair, and I proceeded to rest. It was freaky scary sitting there not being able to move my arms, legs, faintly hearing things at a distance, and sweating. I had broken out into a horrible sweat all over my face. I was going into shock. Paul quickly called 911 and within 5 minutes the paramedics were in my kitchen. I could hear them, but I couldn't open my eyes. They checked my blood sugar, oxygen intake, blood pressure, and my pulse. They assessed that I had indeed gone into shock, but my blood and sugar levels were returning to normal. They asked if I wanted to go to the hospital, but I just wanted to go up to my room.
Ever since that Monday, I've had the worst week of nausea. I know nausea is a good thing meaning the hormones for the baby are all there and that things are working well, but wow would I be grateful to turn a corner with this. Since I do follow a food plan, we had to make major adjustments to my meals fitting in more snacks so that my eating could happen every 2 hours. I was only eating 5 times a day last week. This week, I'm eating 8 times. That adjustment has helped tremendously. I feel a bit of nausea so I look at my plan and eat what's on it. It's amazing to be so in tune with my body. I know my midwives aren't going to believe me when I say I don't eat sugar unless it's listed 5th or higher on an ingredient label. They didn't believe me with the last 2 pregnancies. But they do like that I can pinpoint exactly what I've eaten and what makes me sick or feel well.
So far these are the things that are working:
Proteins (cheese, eggs, taco meat, steak, lunch meat)
Starches (rye bread, rice crackers, potatoes, corn tortillas, tortilla chips, Lawash wraps, oatmeal)
Veggies (salads, pickles, green beans, carrots, raw mushrooms, V-8)
Fruits (apples, bananas, raisins, oranges, applesauce)
Fats (almonds, pecans, coconut oil, avocado)
I also stopped eating yogurt for my dairy and have two 8 oz. glasses of milk per day.
I'm having 11 oz. of protein, 10 starches, 4 veggies, 6 fruits, and 7 fats per day. I wanted to catalogue this here so I can remember what has worked for me at this stage of pregnancy. I've never done this before, but maybe my girls might find it helpful in the future. I guess I'm in my 6th week so I have a bit until I'm out of the first trimester.
I can't say enough about the oatmeal I eat. I could eat it the whole day through, and I pretty much do! We're now in our 3rd order of a 50 lb. sack of steel cut oats. We make them overnight in a small crockpot that is dedicated for that purpose. I have 8 oz. of oatmeal with 2 tablespoons of raisins, and 7 grams of coconut butter. I've had offers to buy coconut butter in bulk from a friend, but we just get ours from Costco. I love the aromatic smell and the taste is incredible! To that little bowl of awesomeness, I add a bit of cinnamon and slip into the most comforting of comfort foods. I've told Paul many times that it feels like a big hug!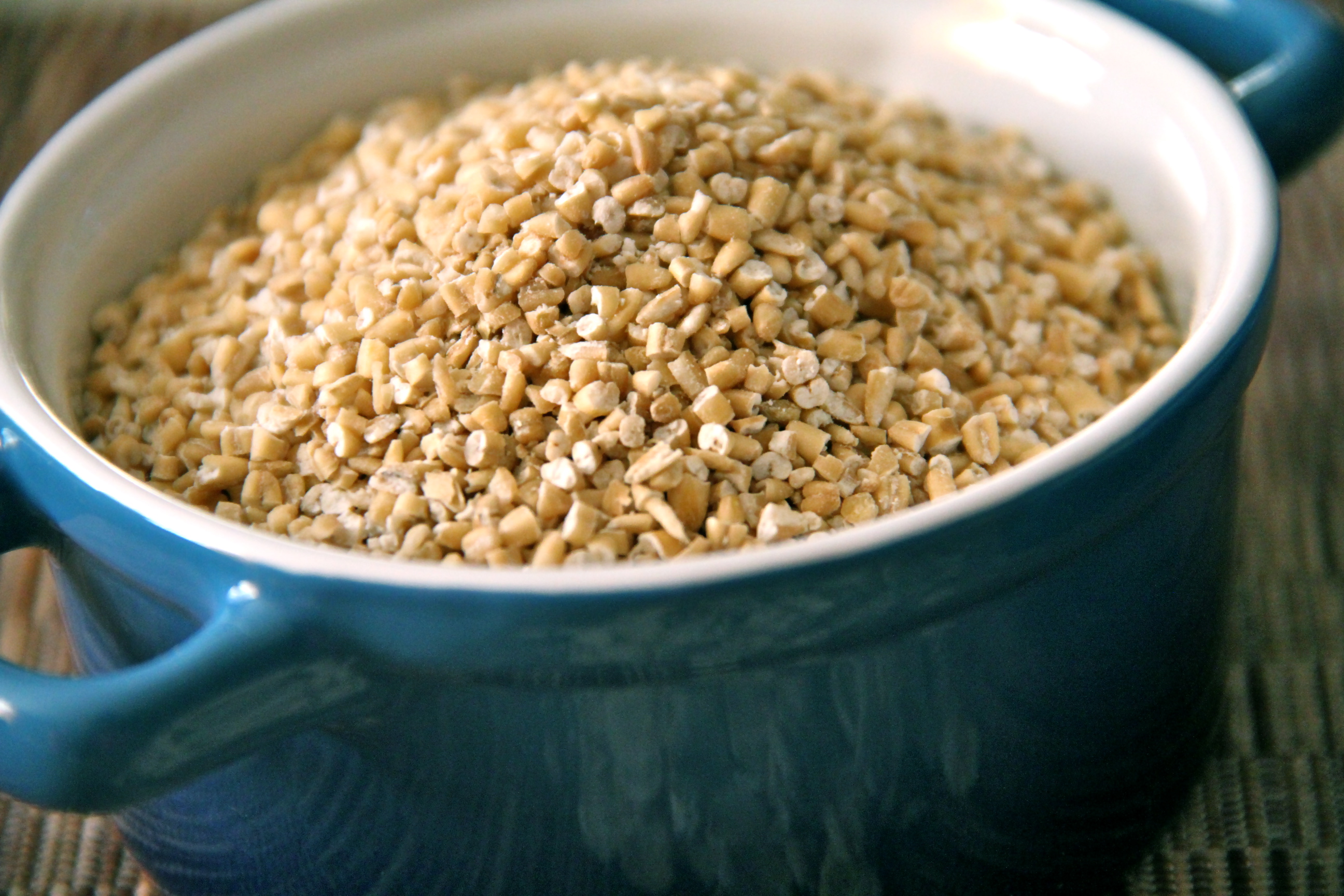 So that's what's been quasi-working for me lately. I also started taking Zofran yesterday for the nausea. I really want to control things with just the food, but sometimes the nausea is too much to take, and I end up shivering in my bed like I have the flu. It's that crippling.
As far as beverages go, I've been drinking lots of tap water, ginger tea, cinnamon tea, chamomile tea, and I have one 7-up per day.
Hopefully, things will change for the better. For now, I'm trying to listen to my body and speak up about what is working and what isn't.