Well, yesterday was Lucas's 9th birthday. I had a mom-fail and gave him a dud of a birthday party. First, off I forgot his age and only picked up 8 balloons. What was I thinking? Then, I forgot a special present which I always do for the kids even if it is a pack of gum, a smallish gift, and maybe a cool t-shirt or sweatshirt.
However, I did think of a few things and made a "party room" for the birthday boy....
I picked up camouflage plates and a blaze orange tablecloth at Party City. I purchased a hunting birthday banner from Etzy from That Party Chick. Next, I used Paul's and Maria's target sheets from their last trip to the gun range to set in the middle of the table. I made the table tents from a Google image, orange construction paper, and camo scrapbook paper. I think they came out well!
Lucas is super into archery, has a couple bows, and has spent a bit of time at the archery range with Paul and Gabe. He's a very good shot. I'm still trying to wrap my head around being the wife and mother of hunters!
Which leads me to another bit of news. Paul entered the two oldest girls into a lottery for a youth hunt in St. Croix State Park. They won. Note I didn't use an exclamation point with that last sentence! This means he'll be taking the girls up to Hinckley, MN for a weekend hunt in November. That means more range practice, a squirrel hunt next weekend, and hunt dog training for Tup.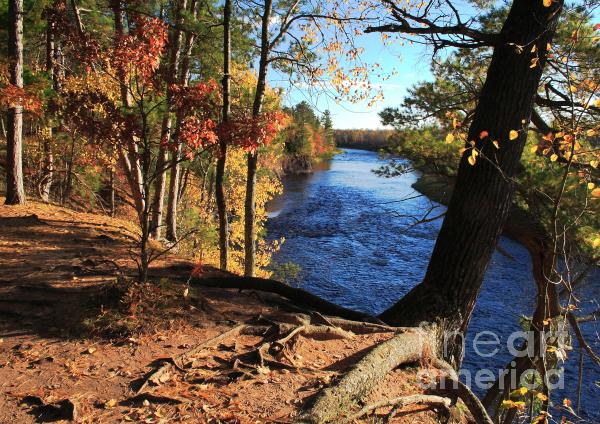 Kettle River in St. Croix State Park
Isn't that a beautiful picture? So, Paul and the girls will get to enjoy that in a few weeks. Meanwhile, I'm starting to enjoy the colors around here....
I've also been processing a lot of apples from Grandpa Ben's apple tree. This year has been a good year for apples so I've been saucing, freezing, and canning over the last week. I have 3 more large boxes of apples in the garage which I am grateful to have. This evening I'll be giving a 10 minute presentation on home canning & freezing as part of "The Lost Arts" Evening for the women of the parish. One woman will be talking about Kombucha, another will be showing how to make yogurt at home, while another mom will be talking about quilting and knitting. I think it will be fun!
Stay tuned for more Minnesota living. I hope to report the girls getting a deer in the weeks to come!