After almost a week of someone or other being sick, I'm finally feeling like I am among the land of the living. I was achy and had chills Tuesday and Wednesday, but life was still going on. Just because the parents are sick does not mean the children who are well are willing to sacrifice their schedules. It was good not to get too far behind so we did try to keep some things going like classes, basketball practices, and make-up lessons. Amazingly, the boys are still going strong and haven't missed a day of school yet. I'm hoping that if they do get sick it's over the weekend.
Lucas now has a private tutor at the school to help bring him up to speed with his Spanish reading. The vocabulary will come in time. His immersion of the language has to go beyond the school and into our home which has had me tuning in to Latin radio stations using the IHeart Radio App. and picking up software for the computer. The best I can do is to speak to the kids more frequently in Spanish. This isn't very easy as I find that I'm yelling more than talking to the kids. It makes me aware that a lot of our conversations aren't conversations at all but rather commands, whining, and more commands!
Very Real!
Before the illness, however, we were able to get the cookies finished for the Little Flowers Snowflake Dance. Here are the boxes ready for a few last minute touches....
The designs were simple, tasteful, and elegant. The final product (we thought) was
Very Pretty!
I included this pic so you can see that we individually seal each cookie using an impulse sealer.
The hostess for the dance added a gift tag and ribbon which made the packaging extra special.
In the midst of all the illness, Maria was able to capture a little glimpse of the contentment in nature around the backyard. This bluejay was sitting on a branch outside trying to stay warm.
Funny
I sometimes wonder if our birds ever get teased by the outside birds. TX Grandma sent a Christmas gift to the kids....
the movie Rio
. I saw this scene and had to chuckle at wild vs. domesticated birds!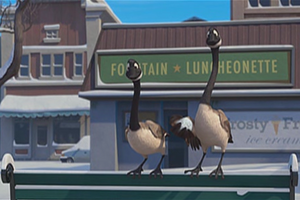 Alice and Chloe (Canadian Geese) make fun of Blu,
a domesticated Blue Macaw, as he enjoys hot cocoa and cookies
from his comfortable home/book store.
"Winter is better INSIDE!" says Stormy.
To help the Spanish Immersion Cause underway in our home, I did a scan for Spanish books on Craig's List. I found the SWEETEST deal from a former High School Spanish teacher who was getting rid of her library. I bought almost 50 books from her! We negotiated a price which is way under the value of what I came away with. That made me
Very Happy!
The kids found it strange that some of their favorite stories have been translated into Spanish. Little do they know the world over also reads these and similar books!
Find more Pretty, Happy, Funny, Real posts by visiting Leila and her daughters over at
LMLD
!