I love to bake bread and bread-y goods, and I love the smell of freshly baked bread. Something about making things from scratch makes me feel like a good Mommy. I don't bake bread on a regular basis, nor do I putz with kneading bread dough for hours. I'm a half-baked kitchen enthusiast who doesn't have extra time to bake anything homemade!
I have found a few things I love to bake, bake well, and they get gobbled up before I'm tempted to take a bite. That's right...I don't taste test anything I make. I don't even get a crumb. So why do I love bread? I think it's the art and science of baking that turn my crank.
Here are a few of my favorite bread/baked good recipes:
Challah Braid
I make this using my Cuisinart Food Processor. You can make this for the Shabbat, but you don't have to be Jewish to enjoy it!!
Ingredients
3 tablespoons granulated sugar, divided
1 package active dry yeast
¼ cup warm water (105 - 115°F)
3¼ cups unbleached, all-purpose flour
1½ teaspoons table salt
½ cup cold water
1/3 cup unsalted butter, melted
1 large egg
Egg glaze (1 large egg and 1 tablespoon water)
Vegetable oil cooking spray
Instructions
In a 2-cup liquid measure, dissolve 2 teaspoons sugar and yeast in warm water. Let stand until foamy, about 5 minutes.

Insert the dough blade in the work bowl and add flour, remaining sugar and salt. Pulse to combine, about 2 to 3 times.

Add cold water, melted butter and egg to yeast mixture. With machine running, add liquid through small feed tube in a steady stream as fast as the flour absorbs it. Once dough forms a ball continue processing for 45 seconds to knead dough. Place dough in a floured plastic food storage bag and seal. Let rise in a warm place until doubled in size, about 1 to 1½ hours.

Place dough on a lightly floured surface and punch down. Divide dough into 3 equal pieces. Use your hands to roll each piece into a cylinder about 1½ x 14-inch. Place the cylinders side by side on a baking sheet coated with vegetable oil cooking spray. Braid loosely from one end. Gently pull and taper each end to a point, then pinch and tuck under loaf. Cover with plastic wrap coated with vegetable oil cooking spray and let rise until doubled in size, about 45 minutes. Preheat oven to 375°F 15 minutes before baking.

Prepare egg glaze by combining egg with water; brush over braid. Bake in lower third of preheated oven for 20 minutes. Lower temperature to 350°F. and bake until loaf is browned and sounds hollow when tapped, about 10 minutes. Cool on wire rack.
Taken from the Cuisinart Book of Recipes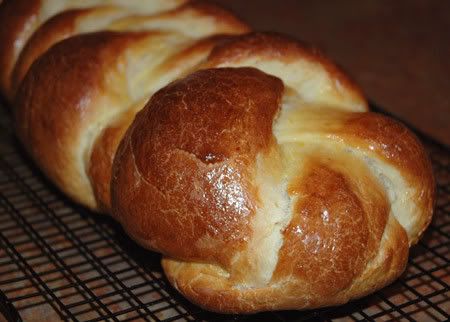 This recipe came in a cookbook given to me by a roommate's mom as a wedding gift.
1 tsp. sugar

2 pkgs. active dry yeast

1/4 c. very warm water
Let stand a few minutes. Meanwhile, melt 1 c. margarine very slowly on low heat.
2 c. very warm water

1/2 c. sugar

1 T. salt

2 T. salad oil or melted shortening

2 eggs, well beaten

4 c. flour
Add yeast mixture to this mixture and beat well w/a mixer. Add 3 c. more flour -- mix well but do not knead. (Sometimes you will have to add 1/2 c. or so more flour if the dough is really sticky -- depends on the humidity.)
Turn dough into a greased bowl and let rise until doubled -- about 1 1/2 hrs. Divide dough in half. Roll half into a rectangle about 1/2 inch. thick. Spread liberally with butter from the cupful you melted and sprinkle liberally with sugar (about 3/4 c.) Sprinkle w/cinnamon. Roll rectangle up from the wide side and pinch together to form a long roll. Cut into slices 1-1 1/4 in. thick (A serrated knife makes it easier) and put them in a greased pan so they do not touch. Repeat with the other half of the dough. Let these rise until doubled -- 45 minutes to an hour. Bake at 350 degrees until lightly browned, 20-30 mins. Turn out of pan while still warm and spread with frosting.
To make the frosting, mix the melted butter you had left from the one cup w/about 1 T. milk and enough powdered sugar to make a frosting of the desired consistency. You may add a little vanilla or almond flavoring if you like.
As Monica recently said under her breath before biting into one, "There's nothing like homemade cinnamon rolls."
Jason's Quick Coccodrillo Ciabatta Bread
This I can't wait to make. I think I'll make up the dough tonight and bake these loaves tomorrow. Here's a quick link & I'll try to post a pic so you can see the yummy goodness.
Doesn't that look great?!
So, no, I don't think the French are the only people in this world who make good bread. This house is definately a house "au bon pain!"